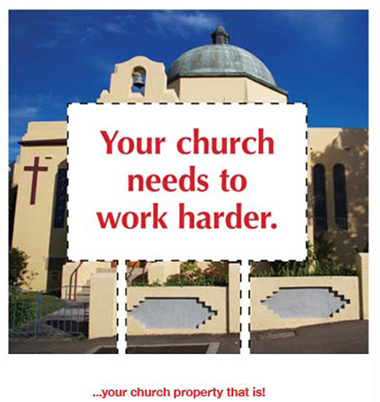 Outreach Posters can help you make the most of your location.
With a new, gospel focused poster each month, Outreach Posters are a great tool for evangelism.
Every poster is designed to engage with the community and spark conversations.
Our posters are available in two sizes and come with a waterproof display cabinet.
Begin a conversation in your community with Outreach Posters now.
To receive further information for your church leadership team, contact Bob at admin@outreachmedia.org.au, or 0430 344 514.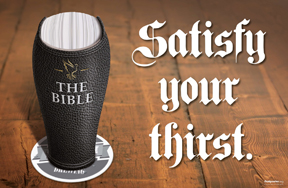 Current poster
: February 2015
Those crazy Finlanders! If hubby is strong and wifey weighs more than 49kg they can enter as a team in the 'Wife-Carrying World Championships'. The rules are simple: carry your wife along a 253m obstacle course traversing land and water. The first couple to the finish line (hopefully with marriage intact) is crowned winner. The prize? The woman's weight in beer!
What a way to quench a thirst!
Whether it's sporting glory, money, marriage, holidays, a successful career, a nice home or even just good health, we all thirst for something, don't we? But have you ever stopped to think if you can be truly satisfied in life? Or will you spend the rest of your years running an obstacle course, always chasing happiness?
Jesus understood the longings in our heart and reminded us that we'll never be satisfied with what comes from this world. One day, while speaking to a woman at a well, He spoke of a spiritual drink that would change a person forever. He said:
"Everyone who drinks this water will be thirsty again, but whoever drinks the water I give them will never thirst. Indeed, the water I give them will become in them a spring of water welling up to eternal life."
The drink Jesus spoke of was .....