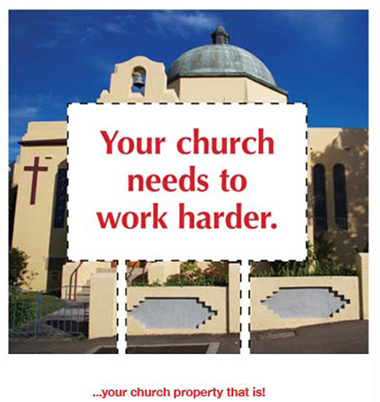 Outreach Posters can help you make the most of your location.
With a new, gospel focused poster each month, Outreach Posters are a great tool for evangelism.
Every poster is designed to engage with the community and spark conversations.
Our posters are available in two sizes and come with a waterproof display cabinet.
Begin a conversation in your community with Outreach Posters now.
To receive further information for your church leadership team, contact Bob at admin@outreachmedia.org.au, or 0430 344 514.

.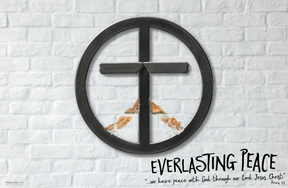 Current poster
: March 2017
For years there's been a Christian conspiracy theory about the logo for the Peace Movement. Rumours have alleged that the design is a poke in the eye to Christians. A Christian cross, turned upside down, with broken arms - rejecting the Christian message and its cross as the path to peace.
Yet the truth is that in 1958 a British designer called Gerald Holtom took two semaphore flag letters, 'N' and 'D', to signal Nuclear Disarmament. The resulting symbol was then used on flags and placards at an anti nuclear rally.
And further to the story, Holtom was, in fact, a Christian. Although he'd wanted to use traditional Christian symbols of peace and unity he knew they'd never be widely accepted. After all, the Japanese had recently suffered a nuclear holocaust at the hands of 'Christian' America and the Muslims had long memories of Christian crusades. So the conspiracy is unfounded.
But, although many Christians have sympathized with the non-violent goals of the modern Peace Movement, suspicions about other agendas have been well founded. For example....
.
.
.