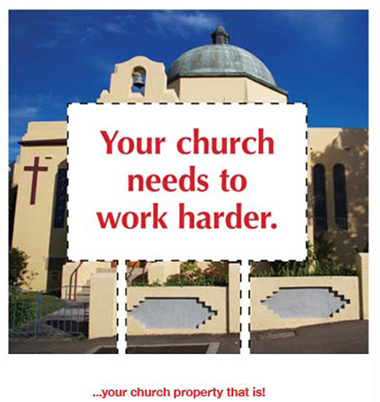 Outreach Posters can help you make the most of your location.
With a new, gospel focused poster each month, Outreach Posters are a great tool for evangelism.
Every poster is designed to engage with the community and spark conversations.
Our posters are available in two sizes and come with a waterproof display cabinet.
Begin a conversation in your community with Outreach Posters now.
To receive further information for your church leadership team, contact Bob at admin@outreachmedia.org.au, or 0430 344 514.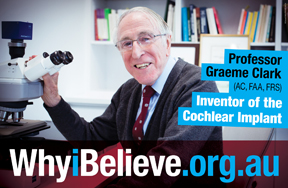 Current poster
: October 2014
WHY I BELIEVE- Laureate Professor Graeme Clark AC, FAA, FRS, Hon FRCS
At the Cavendish Physics Laboratory at Cambridge University are the words in Psalm 111:2 "Great are the works of the Lord; they are pondered by all who delight in them."
I have been committed to science for a number of decades and also spent the same period considering the importance of God as Father, Son and Holy Spirit. I have come to learn that many leading philosophers and scientists see the laws that have produced the physical universe and the origin of biological life on Earth are the result of a remarkable intelligence, and their origin is next to impossible from mindless chance.
One of the most exciting discoveries in the last two centuries has been the functioning of the human brain: probably the most complex structure in the Universe. The brain is more than an incredibly complex arrangement of electrical circuits, connections and proteins; it is responsible for our thinking, feeling, morality and creativity....