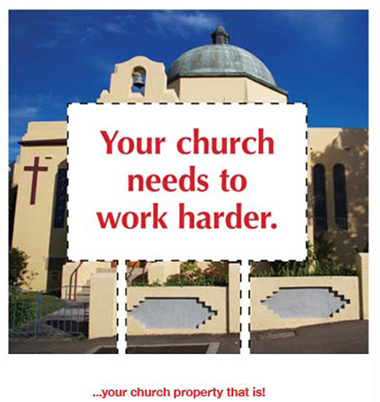 Outreach Posters can help you make the most of your location.
With a new, gospel focused poster each month, Outreach Posters are a great tool for evangelism.
Every poster is designed to engage with the community and spark conversations.
Our posters are available in two sizes and come with a waterproof display cabinet.
Begin a conversation in your community with Outreach Posters now.
To receive further information for your church leadership team, contact Bob at admin@outreachmedia.org.au, or 0430 344 514.

.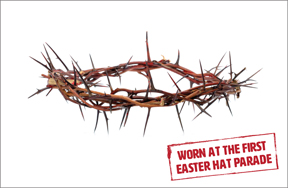 Current poster
: April 2017
Kids both love and hate the annual Easter Hat parade. Parents likewise. It's so much fun to wear a funny, self-made hat at Easter - to walk around and laugh at each other's designs, impressed by the cleverness and humour. But it's scary wondering if people think your hat is weird or daggy! And the stress zone the night before is really something. Parents with ten thumbs pull gluey fingers apart, trying desperately to make cardboard behave as they hit the craft wall at 1am. But the organized and ambitious parents are serene and un-fussed. For weeks they've been sourcing fairy dust and felt. And their finished creations sparkle and dazzle.
Our Father in Heaven really is the most concerned parent of all. He certainly didn't leave the rescue of humanity till the last minute. The Bible says that, "at just the right time, when we were still powerless, Christ died for the ungodly." Which means the arrival of Jesus was a rescue mission to deal with our rotten, rebellious, bad behaviour.
But the mission was a mixture of love and hate. The Bible clearly says that, 'God so loved the world, that he sent his one and only son'. And Jesus agreed with the mission. He delighted in doing the will of his heavenly Father. But he hated the prospect of the cross......
.
.