Poster Archive
: JULY 2010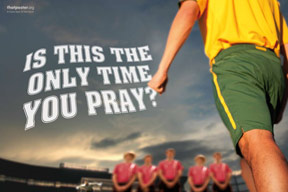 Message: Is this the only time you pray?
Bible verse: Psalm 91:15 "When he calls to me, I will answer him; I will be with him in trouble; I will rescue him and honour him"
Can you feel the excitement? That one magnificent moment where the whole world is on the edge of its seat, bristling with nerves as a ball rockets between defenders towards a goal? That breathless second when people everywhere silently plead: "Please God! Please God! Please God!" hoping for glory to remember for the rest of their lives? Then - YES! Goal! Victory! Lounge rooms full of friends jump to their feet and scream in utter joy. Car horns blare. Strangers hug in pubs. Stadiums erupt in loud singing. Players drop to their knees, weeping and hands clasped to their faces in prayer.
With such euphoria, it's easy to see why many people say sport is religion - especially when it comes to the World Cup. But do you ever stop and think who you're praying to? Who actually might be listening?
Prayer is more than just wishful thinking. Prayer is talking to God. And He is always listening. This is what the Bible promises to the person who is God's friend: "When he calls to me, I will answer him; I will be with him in trouble; I will rescue him and honour him" (Psalm 91:15)
This is an amazing promise. The God who created the universe is inviting each and every one of us to talk and learn from Him one-on-one. He wants us to bring our requests, thanks, hurts and anxieties to Him without fear. He wants to build a deep and loving relationship with us. He wants to support us through the toughest of times and the best of times.
This means we shouldn't treat prayer lightly. We step into God's presence when we speak to Him and call on His name. Also, we shouldn't see God as some sort of butler who answers our every whim. He wants us to focus on serving Him - not the other way around. He will tend to our needs if it's in accordance with His perfect will.
Importantly, like any relationship, it's two-way. We need to listen to what God says. This doesn't mean looking up to the clouds waiting for a thunderous voice, but realising God has already spoken to us through his son, Jesus Christ. By reading the Bible we learn more about God's will for our lives.
So why not try it now? You don't need to be in church. Just simply clear your mind and speak honestly. God's waiting to hear from you.
Prayer: Dear God, may we build up a relationship through prayer that both honours you and grows me. Amen.