About Us
: HISTORY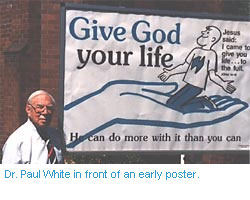 Outreach Posters was the brainchild of the "Jungle Doctor", Dr Paul White. It was a poster outside a church that spurred Dr White to take his Christian faith seriously as a young adult. The poster prompted Dr White to embark on a lifetime of international mission work. Because of this he moved to establish Outreach Posters seeing a unique opportunity for evangelism.
"Imagine, churches all over the community, of all denominations, being able to unite behind a simple biblical truth. What a tremendous witness to the Gospel of Christ."
After Dr White's initial vision the work was carried on for over 18 years by Jeff and Lynne Blair and a team of dedicated volunteers. They have produced and distributed posters and a set of accompanying bible notes every month to a network of churches around Australia. At its peak Outreach Posters serviced over 200 churches. Over that time they received numerous personal testimonies from people that were moved and challenged by the posters. Outreach Posters has been a catalyst for many in visiting church for the first time or returning after being away.
Time for change In 2006 the Blairs decided that the time had come to pass on the baton. They began discussions with FEVA - an evangelical ministry to people in the arts. FEVA agreed to take on the month to month running of Outreach Posters.
FEVA's goal is to continue with the vision of Dr White and the excellent service and imagination of the Blairs. We hope that the change of management will also provide an opportunity to inject some fresh ideas and enthusiasm to this venture.